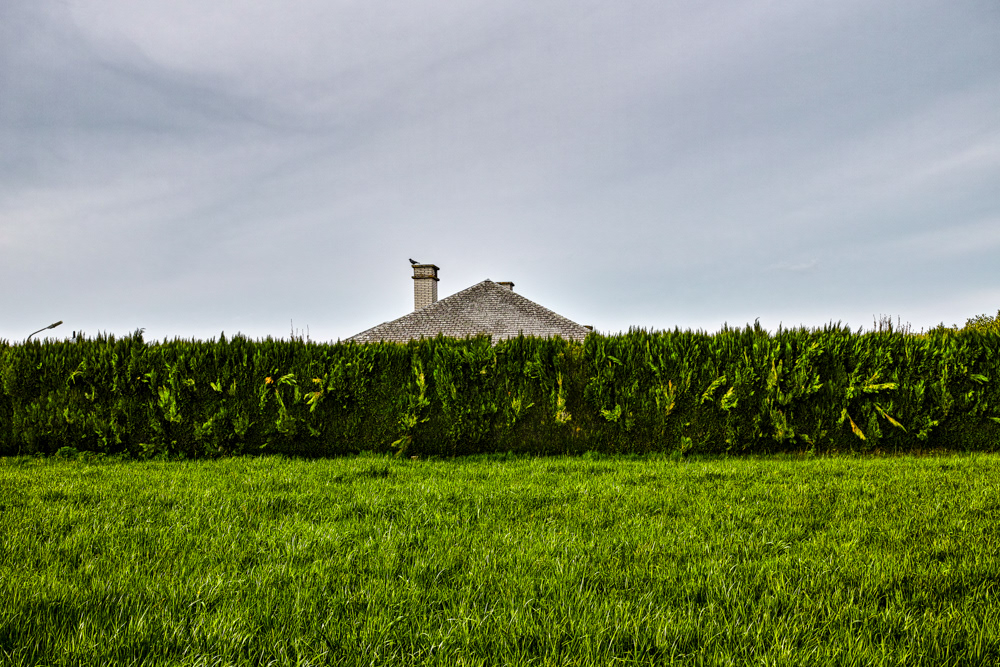 Dolend, dwalend,
door het dorp van mijn jeugd,
schijnbaar doelloos,
een vijftiger met de blik,
de gevoelens van een kind,
met grote ogen,
wandelend of fietsend,
uur en dag vergetend,
beelden en indrukken
die me bijblijven,
ontroeren, boeien of verdrietig maken,
net als toen,
alles is zo bekend, zo vanzelfsprekend
dat het pijn doet om het vast te
leggen
de moeite niet, van alle dagen,
terwijl het alles heeft bepaald,
nu nog, mijn leven lang,
dolend, dwalend,
door mijn dorp,
mijn eeuwige jeugd.

Errant, vaguant,
à travers le village de mon enfance,
apparemment sans but,
la cinquantaine,
mais le regard,
les sentiments d'un enfant,
avec de grands yeux,
à pied ou à vélo
oubliant les heures et les jours,
des images et impressions
qui me restent,
m'émeuvent, me captivent,
m'attristent,
tout comme jadis,
tout est si connu, si évident
que le capter me fait mal,
pas la peine,
des banalités,
qui ont pourtant tout déterminé,
même aujourd'hui, ma vie durant,
errant, vaguant,
à travers mon village,
ma jeunesse éternelle.

Wandering, straying
through my hometown,
apparently without a goal,
in my mid-50's,
but with the look,
the feelings of a child,
with big eyes,
strolling or cycling,
forgetting time and hour,
images and impressions
I will always remember,
that move me, fascinate me
or make me sad,
just like then,
everything is so familiar, so natural,
that it hurts to capture it,
not worth it,
so ordinary,
though it determined everything,
until now, all my life,
wandering, straying,
through my hometown,
my eternal youth.